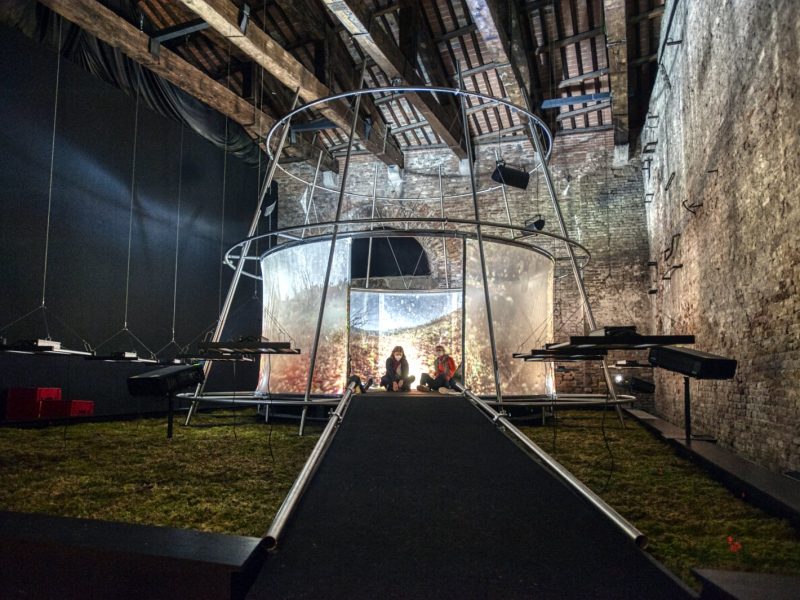 Commissioner: Ximena Moreno (Ministry of Cultures, Arts and Heritage of Chile)
Curator: Camila Marambio
Exhibitors: Ariel Bustamante, Carla Macchiavello, Dominga Sotomayor, Alfredo Thiermann
Project Manager: Alessandra Dal Mos
Technical equipment: Eidotech
Constructions: Rebiennale R3B
TURBA TOL HOL-HOL-TOL
HOL-HOL TOL in the Selk'nam language means "heart of the bogs".
@turbatol is the Chile pavilion at the 59th Venice Biennale and combines art and scientific research with the aim of making visible the need to preserve the Patagonian bogs as well as the culture of the original Selk'nam peoples who live there. The installation consists of a collective work where architecture, sound art, video projections and literature coexist and complement each other in a single space.
Building it, from the pool to the steel structure was a challenge, but the result pays off all the efforts!
---
The reuse
Since the first design phases of last autumn, the proposal to reuse as many materials as possible from the previous installation of the Architecture Biennale that we were about to dismantle, was enthusiastically welcomed by the whole Chilean team.
Therefore, after the disassembly, we have carefully cataloged and stacked the selected materials, waiting to be able to reinterpret them for the realization of Turba Tol.
In this way, both the ramp and the raised circular platform were made with fir morals and Chilean plywood panels of 2021.

For the construction of the swimming pool, the perimeter sides containing the Magellanic Sphagnum, materials from the small pavilion "The ArchiAfrika Pavilion, 2021" of Studio Nyali in London, which we dismantled and removed last December from the ECC Venice headquarters at the Giardini della Marinaressa., were reused.


Thanks to the commitment of the design team, it was possible to minimize the cuts of the original elements, so that next November, at the end of this edition of the Biennale d'Arte, all these materials will be available for new constructions!