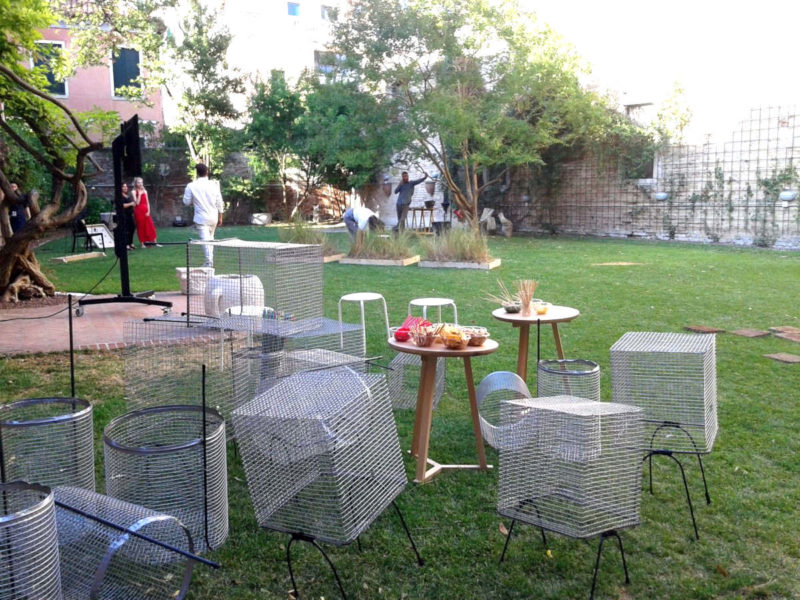 Project: Academy of Fine Arts of Bari and Pino Pascali Foundation
Curator: Prof. Nico Angiuli (Performing techniques for the Visual Arts)
Performers: Mario Ariano, Alessia Lastella, Luca Quercia, Rossana Sangirardi, Annamaria Todisco, Raffaele Vitto and Daniela Zaccaria
Logistics and Installations: R3B
Reused materials: clay from the installation by Martin Rauch and Anna Heringer (Biennale Architettura 2016)
THE ACADEMY OF FINE ARTS OF BARI AND THE PINO PASCALI FOUNDATION INVITE YOU TO
Schola dei Pugliesi
7 performers for 7 performances at Palazzo Cavanis, Venice, in a project curated by Nico Angiuli and inspired by the Venetian "Schole".
Wednesday 10 July at 6.30 pm , Palazzo Cavanis , Fondamenta delle Zattere, Dorsoduro, 920. Venice.
Performative actions of Mario Ariano, Alessia Lastella, Luca Quercia, Rossana Sangirardi, Annamaria Todisco, Raffaele Vitto and Daniela Zaccaria
————————————————————————————————————–
The Academy of Fine Arts of Bari goes to Venice with its creative excellences, while the 58 is in progress. International Art Exhibition – La Biennale di Venezia and within the project Puglia house .
In concert with the Pino Pascali Foundation , presents a cycle of performances in the eighteenth-century garden at the Zattere, where the exhibition is open PinoPascali – From Image to Shape curated by the Museum of Polignano as a side event exhibition of the Venice Biennale. The action will take place Wednesday 10 July (6.30 pm) in the presence of the director of the Bari Academy Giancarlo Chielli , the coordinator of the Visual Arts Department Antonella Marino , of the coordinator of the School of Sculpture Mauro Mezzina and the event manager Magda Milan . The artist Nico Angiuli , teacher of the course of "Performing Techniques for the Visual Arts", will coordinate seven performers chosen from among the students for his project Schola dei Pugliesi.